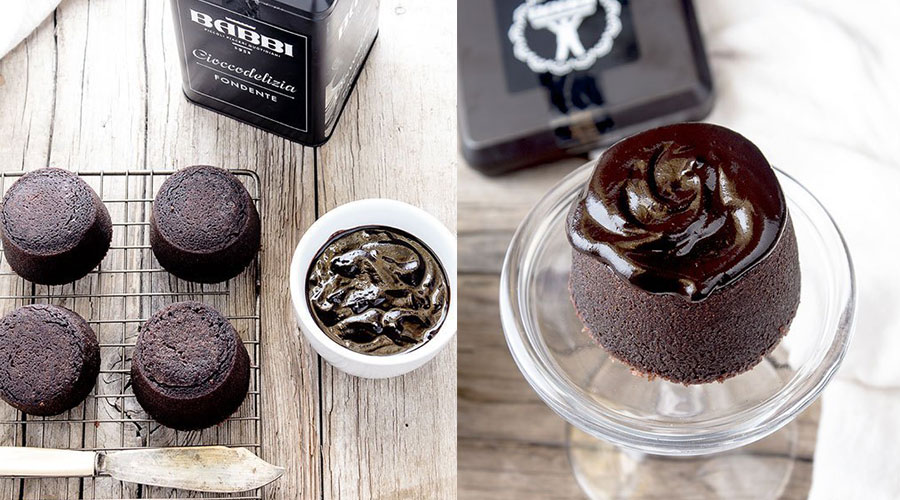 Chocolate Fondant


Preparation time:
15 minutes

Ingredients
250 g room-temperature butter
200 g 70 % dark chocolate, cut into cubes
1 ½ teaspoon instant coffee
350 ml boiling water
250 g of sugar
2 eggs
2 teaspoons vanilla extract
240 g self-raising Italian "00" flour or add 2 teaspoons of baking powder
30 g Cioccodelizia Fondente Babbi
¼ teaspoon salt
Preparation
Preheat the oven to 170 °C. Prepare a mould for 6 single portions.
Pour the chopped butter, dark chocolate, instant coffee and sugar into a container. Pour the boiling water over it and mix all the ingredients together until they have melted and a smooth mixture is obtained. Allow to cool for a few minutes.
Add the lightly beaten eggs, the vanilla and mix until everything is well blended.
Mix and sift the flour and the Cioccodelizia Fondente Babbi with the salt. Add to the liquid mixture and mix. Don't worry if it looks too liquid, that's the way it should be.
Pour the mixture into the moulds and bake for about 60 minutes.
Small cracks may appear on the surface, don't worry, it's normal.
Once baked, let the cake cool for 20 minutes in the mould before removing it from the pan. Place it on a wire rack and let it cool completely.
Decorate it however you like, with a sprinkling of cocoa, with mascarpone cream or with a chocolate ganache.
Ingredients
250 g room-temperature butter
200 g 70 % dark chocolate, cut into cubes
1 ½ teaspoon instant coffee
350 ml boiling water
250 g of sugar
2 eggs
2 teaspoons vanilla extract
240 g self-raising Italian "00" flour or add 2 teaspoons of baking powder
30 g Cioccodelizia Fondente Babbi
¼ teaspoon salt