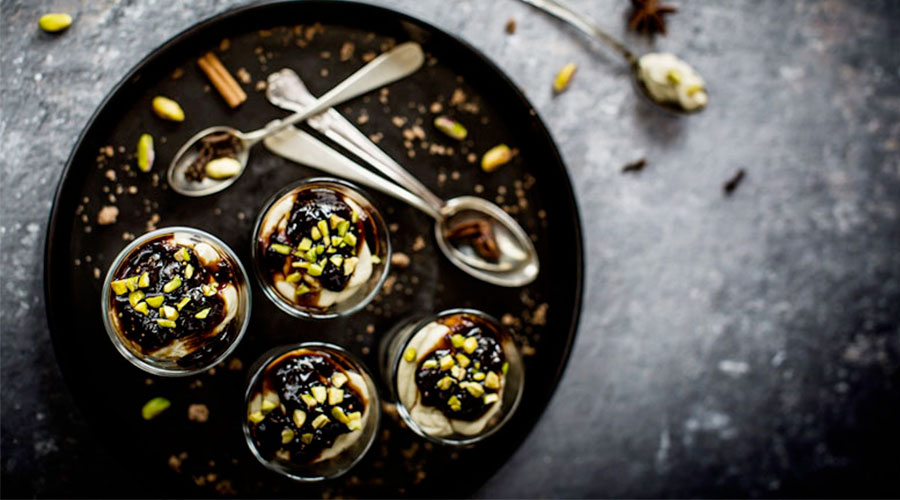 PISTACHIO AND CARAMELISED FIG CRUMBLE CUPS


Preparation time:
105 minutes

Ingredients
For crumble base
75 gr sorghum flour




30 gr rice flour




2 teaspoons of pistachio flour




50 gr butter in pieces




30 gr sugar



30 gr 

Crema Pistacchio Babbi




1 teaspoon of water




½ teaspoon of vanilla extract




1/16 teaspoon of sodium bicarbonate




⅛ teaspoon of salt



For the cream
400 gr ricotta net weight, already well dried




90 gr Crema Pistacchio



 di 

Crema Pistacchio Babbi




55 g sugar




1 spoon of pistachio flour




Fichi Caramellati Babbi




mix of spices (Cinnamon, cloves, star anise, nutmeg, ginger)




chopped unsalted pistachios for decoration
Preparation
For the crumble:
Mix flour, sugar, bicarbonate and salt together in the mixer bowl and mix with the K whisk.

Add the butter in small pieces, the Crema Pistacchio BABBI, the water and the vanilla and work until the ingredients are well blended and form a smooth and soft paste.

Transfer the mixture into a lightly buttered 18 cm round mould (or 3 moulds x 10 cm) and distribute it evenly over the bottom, levelling the surface. Place plastic wrap in contact with the pastry and place the mould in the refrigerator for at least 2 hours, but preferably overnight.

Remove the plastic wrap from the mould with the pastry and cook the pastry crust in an oven at 175°C for about 25 minutes. After 15 minutes check if the pastry has inflated, and if so, use the back of a fork to delicately lower it.

Continue cooking until the crust becomes an intense golden brown colour. Remove from the oven and allow the pastry to cool in the mould, on a grid.

For cream and topping:
In a bowl, mix the ricotta (left to dry properly on absorbent kitchen paper for some hours), the pistachio spreading cream, the pistachio flour and the sugar. Mix loosely with a spoon then work with an electric whisk for a few minutes, until you have a smooth velvety cream.

Place the cream in the fridge, covered with film, until you need it.

Cut the Fichi Caramellati Babbi into large chunks, mix them in a small bowl with their own juice, and add a teaspoon tip of mixed spices; keep to one side.

For the assembly:
Crumble the pastry, not too finely, and spread out about half into the bottoms of 8 glasses.

Using a piping bag, distribute half the ricotta and pistachio cream among all the glasses, onto the layer of crumble. Cover the layer of cream with the remaining crumble, then place the remaining cream on the crumble.

Complete with Fichi Caramellati Babbi in pieces, some of its syrup and decorate with crushed pistachios. Place in the fridge for two hours before serving.
Ingredients
For crumble base
75 gr sorghum flour




30 gr rice flour




2 teaspoons of pistachio flour




50 gr butter in pieces




30 gr sugar



30 gr 

Crema Pistacchio Babbi




1 teaspoon of water




½ teaspoon of vanilla extract




1/16 teaspoon of sodium bicarbonate




⅛ teaspoon of salt



For the cream
400 gr ricotta net weight, already well dried




90 gr Crema Pistacchio



 di 

Crema Pistacchio Babbi




55 g sugar




1 spoon of pistachio flour




Fichi Caramellati Babbi




mix of spices (Cinnamon, cloves, star anise, nutmeg, ginger)




chopped unsalted pistachios for decoration