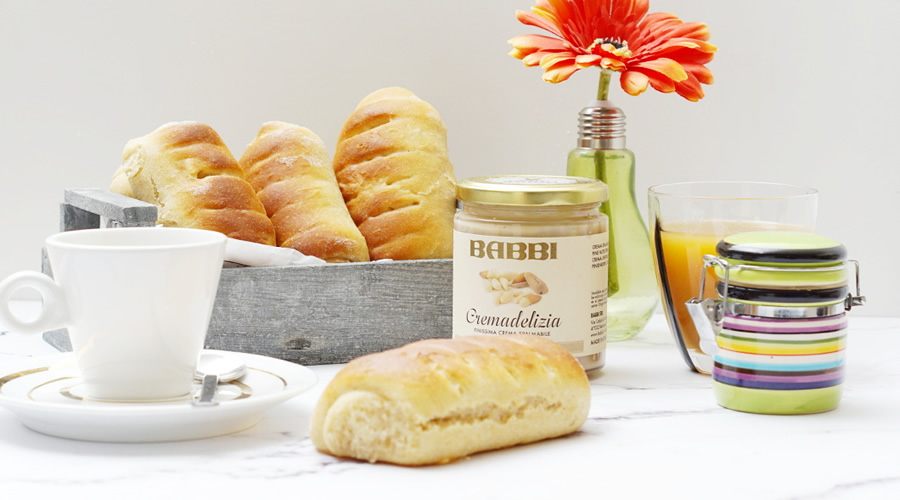 Sweet Viennese rolls with Cremadelizia Pine Nuts

Preparation time:
25 minutes

Ingredients
250 g milk

2 eggs

550 g flour 0

45 g rice oil

40 g brown sugar

2 tablespoons 

Cremadelizia Pinoli Babbi

1 sachet dry yeast in granules

10 g salt
Preparation
Slightly warm the milk, dissolve the yeast in this then pour everything into the mixing bowl of the electric mixer. Add the eggs and brown sugar.

Then add the flour, oil, salt and two tablespoons of 

Cremadelizia Pinoli Babbi

. Insert the hook into the mixer and start the mixer at low speed for 10 minutes, until the mixture has amalgamated.

Gently turn out the mixture onto the floured surface and knead by hand for a few minutes. Place the dough into a bowl and cover with a cloth. Allow to rise until it doubles in volume.

Take a rectangle of dough and roll from the shortest side. Do this with all the pieces of dough.

Place the rolls on a baking tray lined in oven paper. Use a knife to score the top of each bread roll, cover with a cloth and allow to rise for an hour.

Then take the dough and stretch it out gently by hand to obtain a rectangle. Divide the rectangle into 12 parts.

Brush the rolls with milk and bake at 180°C for about 10 minutes, until they turn golden brown on the surface.
Ingredients
250 g milk

2 eggs

550 g flour 0

45 g rice oil

40 g brown sugar

2 tablespoons 

Cremadelizia Pinoli Babbi

1 sachet dry yeast in granules

10 g salt