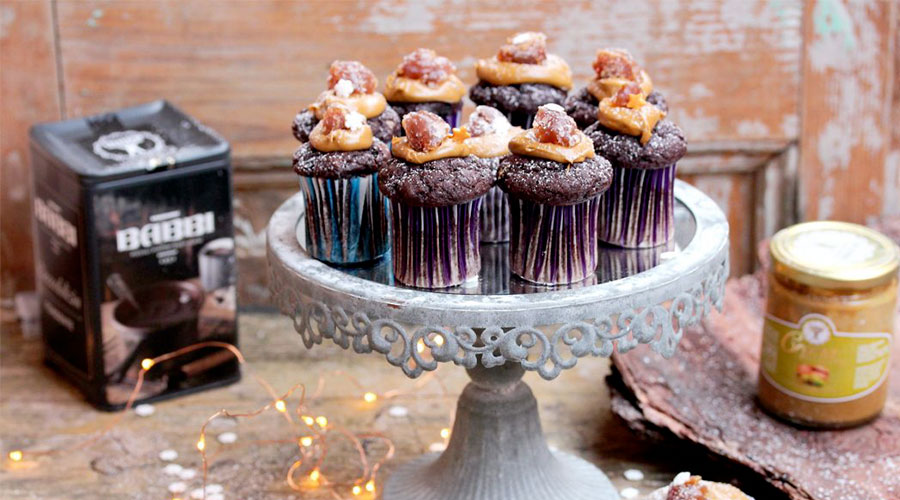 Minifluffy Chestnuts and Pistachio Cream


Preparation time:
20 minutes

Ingredients
For the fluffs
150 g chestnut flour

120 g flour

220 g icing sugar

50 g cocoa 

CioccoDelizia Fondente

 Vegan

130 g seed oil

30 g flax seed flour

350 g boiling water

1 sachet baking powder

1 teaspoon sodium bicarbonate

1 teaspoon apple cider vinegar

1 spoon rum

 
For the trimming
80 g 

Crema Spalmabile Babbi al Pistacchio

5 marron glacé

icing sugar
Preparation
In a bowl sift the flour, chestnut flour, baking powder, bicarbonate and icing sugar.

In another large bowl pour the cocoa 

CioccoDelizia

 Fondente and pour in the boiling water, mix with a hand whisk until it has amalgamated and is perfectly smooth.

Add the flax seed flour, oil, vinegar and rum. Mix with a hand whisk for a few minutes. It will be quite a liquid mixture.

Now into the bowl, pour the cocoa, the flour mixture and mix always using a hand whisk.  If it is too dry add a little hot water, or rum if you like. 

Use a spoon to pour the mixture into the moulds and bake at 150° for about 40 minutes. Allow to cool and proceed to the trimming.

Place a spoonful of 

Crema Spalmabile Babbi al Pistacchio

 onto each mould. The cream must be cold from the refrigerator.

Cut each marron glacé into four parts and place in the centre of the pistachio cream.  Dust with icing sugar and serve.
Ingredients
For the fluffs
150 g chestnut flour

120 g flour

220 g icing sugar

50 g cocoa 

CioccoDelizia Fondente

 Vegan

130 g seed oil

30 g flax seed flour

350 g boiling water

1 sachet baking powder

1 teaspoon sodium bicarbonate

1 teaspoon apple cider vinegar

1 spoon rum

 
For the trimming
80 g 

Crema Spalmabile Babbi al Pistacchio

5 marron glacé

icing sugar