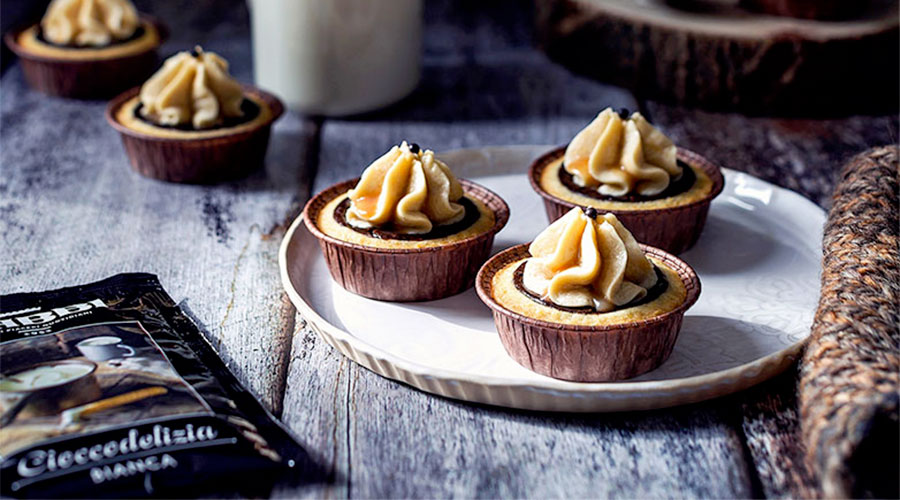 Cheesecake and Cioccodelizia Tartelettes


Preparation time:
90 minutes

Ingredients
For shortcrust shell
150 g cake flour
85 g butter
65 g sugar type Zefiro
35 g ground roasted almonds
30 g whole egg (approximately ½ large egg)
½ tablespoon vanilla extract
¼ tablespoon baking powder
¼ tablespoon salt
For cheesecake filling
180 g Philadelphia
30 g whole egg (approximately ½ large egg)
90 g ready-made 

Cioccodelizia Fondente Babbi

 
30 g sugar type Zefiro
½ tablespoon vanilla extract
q.s. powdered cardamom
For "mousseline" type cream
160 g ready-made 

Cioccodelizia Bianca Babbi

 
75 g butter
20 g lightly ground coffee beans
15 g white chocolate
For decorations
Preparation
For the shortcrust pastry: 
In a large bowl add flour, almond flour, sugar and salt and mix with a tablespoon.
Add the cold butter in pieces and crumble with the finger tips to obtain fine bread crumbs. Add the egg, lightly beaten with vanilla extract, and work quickly to form a uniform mixture, try to handle the pastry as little as possible.
Wrap the pastry in shrink wrap and allow to rest in the fridge for 4-5 hours, better if overnight.

For tartelette filling: 
In a bowl, use an electric beater at low speed to cream the Philadelphia and sugar until creamy.
Add the egg, spices, vanilla extract and mix well without incorporating too much air.
Lastly add

Cioccodelizia Fondente Babbi

 (prepare with 120 ml milk and 30g Cioccodelizia) at room temperature and amalgamate with care.

For assembly:
On a slightly floured work surface, roll out the shortcrust pastry with a rolling pin until 4 mm thick, cut out disks using a round cutter slightly larger than the diameter of the moulds.

 

Line the sides and bottom of the tartelette moulds (remember to grease and flour lightly if not in silicon or using oven paper), smooth out the edges using a sharp knife. Prick the bottom of the shells with a fork, fill with the filling and bake in a hot oven at 175°C for about 15 minutes.
Leave the tartelettes in the oven when it is switched off, leaving the door slightly open, for the next 10 minutes before removing and place them on a rack to cool.

 

When the tartelettes reach room temperature place in the fridge for at least a few hours to allow the filling to set.

For the cream:
Warm up 200 ml milk until almost boiling, away from the fire, add the ground coffee beans and allow to infuse for 15-20 minutes. Use the filtered flavoured milk to prepare

Cioccodelizia Bianca Babbi

 (with 168ml flavoured milk and 48g Cioccodelizia).

 

Away from the fire add the chopped white chocolate, mix to melt and then move everything into a bowl and allow to cool, cover with shrink wrap in contact with the surface. Use the electric beater to soften the butter until it is creamy.
Add the cold 

Cioccodelizia Bianca Babbi

  and continue to beat until it becomes a uniform, velvet cream, but do not work too long.

For finishing the cake:
Spoon the "mousseline" into a piping bag with a smooth or star-shaped nozzle, and decorate each tartelette with a dollop of cream.
Allow to rest in the fridge for about one hour. Just before serving, complete with a few strings of salted caramel, allowed to "drip" off a fork.
Ingredients
For shortcrust shell
150 g cake flour
85 g butter
65 g sugar type Zefiro
35 g ground roasted almonds
30 g whole egg (approximately ½ large egg)
½ tablespoon vanilla extract
¼ tablespoon baking powder
¼ tablespoon salt
For cheesecake filling
180 g Philadelphia
30 g whole egg (approximately ½ large egg)
90 g ready-made 

Cioccodelizia Fondente Babbi

 
30 g sugar type Zefiro
½ tablespoon vanilla extract
q.s. powdered cardamom
For "mousseline" type cream
160 g ready-made 

Cioccodelizia Bianca Babbi

 
75 g butter
20 g lightly ground coffee beans
15 g white chocolate
For decorations