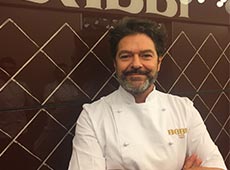 Marco di Consiglio
He has been collaborating with Babbi ever since 2010, first with Babbi HELADO ITALIANO in Spain and then with Babbi Srl as a trainer and instructor for opening new businesses, fairs and events. His philosophy is: "QUALITY at 360°…"!
Second-generation gelato maker, Marco DI CONSIGLIO started off in 1991 as a helper in his father Aldo's gelateria in Milan. In 1992, he opened a traditional Italian gelateria in Tel Aviv (Israel), and in 1993, he started a franchise gelato business in Israel, learning all the issues associated with opening an outlet, its management, supply, staff training, etc.
In just a few years, 18 new outlets were opened. In 2006, he moved to Barcelona, Spain, where he opened his own gelateria, GELAAATI di MARCO, and with great passion and curiosity, through a series of training courses in which he participated, he became a point of reference in Catalonia for all those wishing to open a successful traditional Italian gelateria.