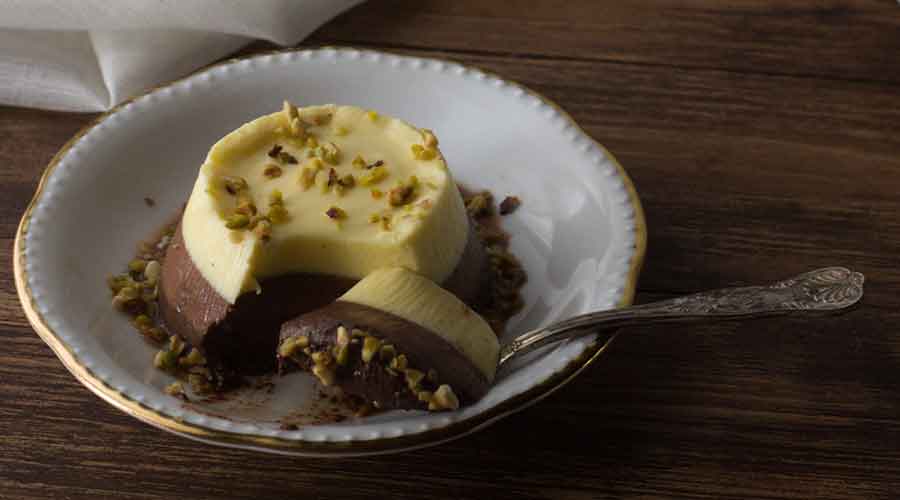 Bavarian creme with three chocolates


Preparation time:
40 minutes
Ingredients
For the biscuit:
3 egg whites
4 yolks
28 g. of cocoa
90 g. of sugar
zest of 1 orange
For the custard creme (base for the three Bavarians)
350 gr. of whole milk
75 gr. of sugar
6 yolks
4 sheets of isinglass
For the white chocolate Bavarian cream:
For the dark chocolate Bavarian cream:
Preparation
For the base of the three Bavarian creams:
Bring the milk to boil, in the meantime, lightly whisk the egg yolks with the sugar with a whisk. Add the milk to the egg yolks and sugar mixture and return to the heat until it reaches a temperature of 85 °. Remove from the heat and add the isinglass (previously soaked in water). Mix the cream and divide it into three equal parts, help yourself with a graduated pitcher.
For the three Bavarians:
Assembling the cake:
If you want to create a unique dessert, take a hinge mold of about 22 cm.  Use the mold to misure the biscuit dough and cut it to the right size. Cover the mold with cling film and lay the biscuit base on the bottom, pour the dark chocolate Bavarian cream and put it in the freezer to make it cool, when the mixture has solidified (it will take 20 minutes) pour the classic chocolate Bavarian cream, place in freezer, and finally pour the white cream.
Now you can let the cake rest and then turn it out and decorate it.
If you want to make mini portions the procedure is the same, you just have to be careful to divide the different mixtures equally.
Ingredients
For the biscuit:
3 egg whites
4 yolks
28 g. of cocoa
90 g. of sugar
zest of 1 orange
For the custard creme (base for the three Bavarians)
350 gr. of whole milk
75 gr. of sugar
6 yolks
4 sheets of isinglass
For the white chocolate Bavarian cream:
For the dark chocolate Bavarian cream: