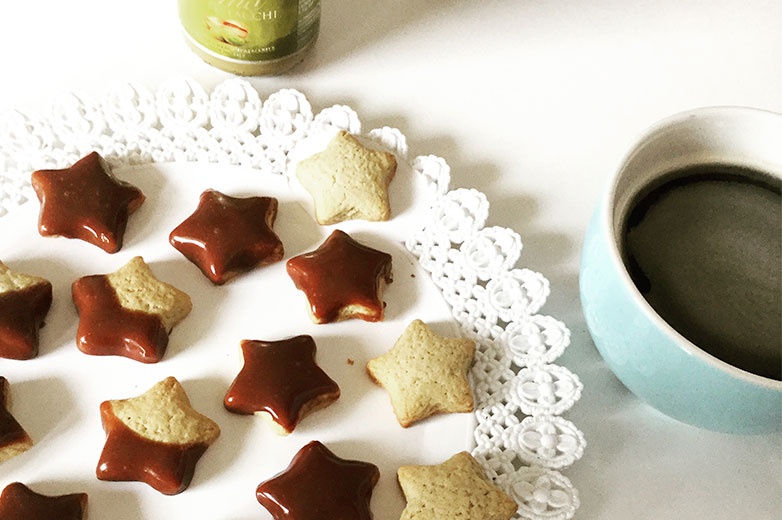 Pistachio Cream Biscuits


Ingredients
For the biscuits
2 eggs
250 g of flour
50 g of very soft butter into small pieces
100 g of sugar
4 tablespoons of Cremadelizia Pistacchio Babbi
a teaspoon of baking powder for cakes
a pinch of salt
For the icing
150 g milk chocolate
50 g butter
Preparation
Mix the soft butter with the sugar and the Cremadelizia Pistacchio Babbi.
Add the dry ingredients: flour, baking powder and pinch of salt. After obtaining a floury mixture, add the eggs and mix them into the dough. Work the dough until it is firm and compact.
Wrap the mixture obtained in cellophane and leave it in the fridge for half an hour.
Then roll out the dough of the Cremadelizia Pistacchio Babbi biscuits, and create some stars with the molds.
Bake at 170 degrees in a preheated oven for about 20 minutes (or at least until the surfaces are golden).
Finally, complete the warm and ready biscuits with chocolate glaze (made by heating 50 g of milk chocolate in pieces and 50 g of butter in the microwave for about 2 minutes).
Ingredients
For the biscuits
2 eggs
250 g of flour
50 g of very soft butter into small pieces
100 g of sugar
4 tablespoons of Cremadelizia Pistacchio Babbi
a teaspoon of baking powder for cakes
a pinch of salt
For the icing
150 g milk chocolate
50 g butter