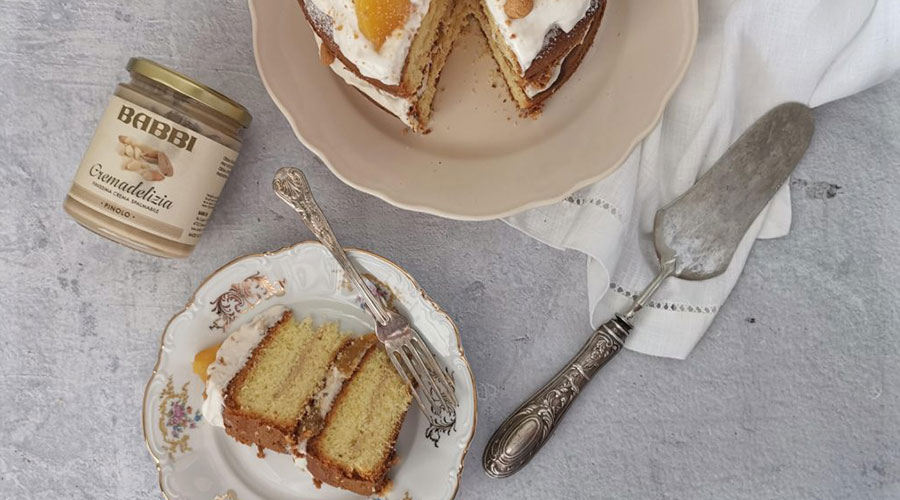 Sponge Cake with Pine Nuts and Peaches in Syrup


Preparation time:
40 minutes
Ingredients
300 g of butter
300 g of sugar
1 teaspoon vanilla extract
6 eggs
300 g of flour
1 sachet baking powder
1 jar of peaches in syrup (I use my mother's percoca peaches)
125 ml fresh whipping cream
Cremadelizia Pinoli Babbi, to taste
Small amaretti, to taste
Preparation
Start preparing the cake base by mixing vigorously in a large bowl the butter in small pieces, at room temperature, with the sugar and the vanilla extract. Whisk until a light and airy cream is obtained. Then add the whole eggs one at a time, making them absorb completely into the butter and sugar mixture.
Sift the baking powder and flour and gradually add them to the dough.
Butter two 18 cm hinged moulds and cover with parchment paper. Pour half of the dough in each of them, level the two cakes well and bake at 180 °C for about 40 minutes (always check the baking of the cakes with a wooden stick).
Let the two cakes cool completely, then cut them in half, fill them with pine nut cream and close each one on itself.
Whip the cream and when it is nice and fluffy, add two tablespoons of Cremadelizia Pinoli Babbi and mix gently to incorporate the cream well without splitting it.
Lay the first cake stuffed with Cremadelizia Pinoli Babbi on a serving dish. Spread a generous layer of cream flavoured with Cremadelizia Pinoli Babbi, a few cubes of peaches in syrup and mini amaretti on its surface. Place the second cake on top, trying to position it exactly over the first one. Decorate the surface with the remaining cream, pieces of peaches and amaretti.
Store in the fridge until the cake is ready to serve.
Ingredients
300 g of butter
300 g of sugar
1 teaspoon vanilla extract
6 eggs
300 g of flour
1 sachet baking powder
1 jar of peaches in syrup (I use my mother's percoca peaches)
125 ml fresh whipping cream
Cremadelizia Pinoli Babbi, to taste
Small amaretti, to taste