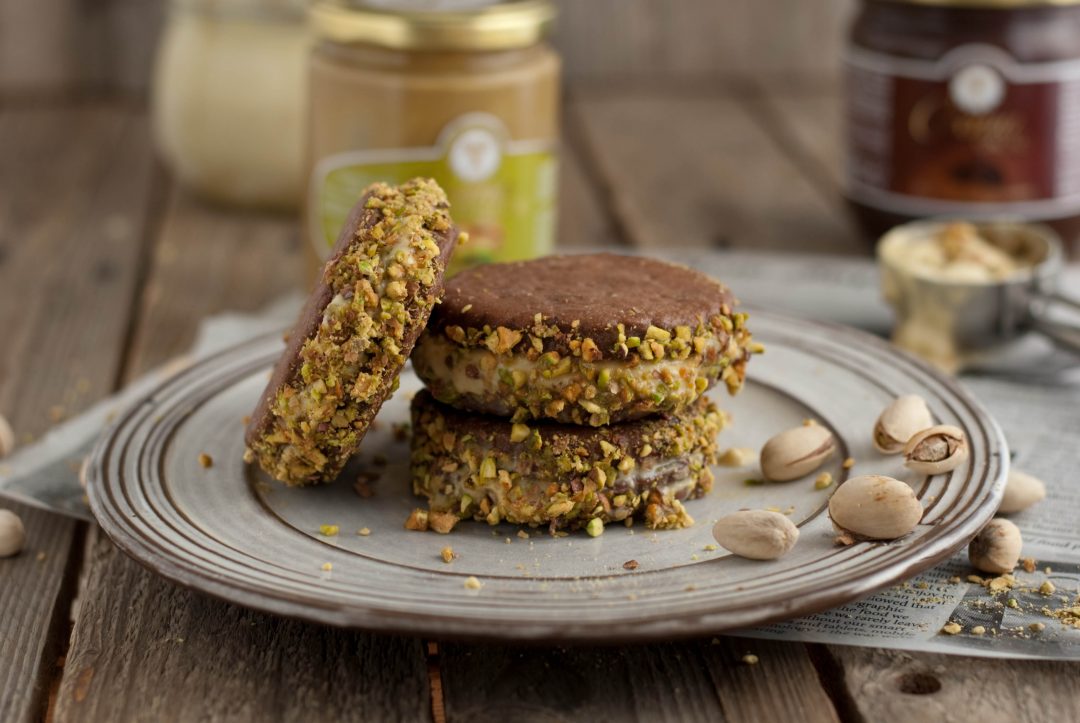 Pistachio Ice Cream with Cocoa Biscuit


Preparation time:
60 minutes
Ingredients
For the ice cream
For the biscuits
Preparation
For the ice cream (Thermomix recipe):
Put the milk, cream, sugar, egg yolk and salt in the mixing bowl for 7 minutes at 90° Speed 4
Add 3 tablespoons of Cremadelizia Pistacchio Babbi 20 sec. Speed 3
Put the mixture in a bowl and let it cool down.
Once cooled, place the tray in the freezer for a whole day.
For the biscuits:
Crumble the butter into small pieces, add the flour and whisk until smooth, add the icing sugar and the Cremadelizia Cacao Babbi and, beat the egg with the yolk in a bowl and add it to the mixture.
Knead with your hands until you obtain a solid and compact dough. Leave it to rest in the fridge for 1 hour.
After this time, roll out the dough and use a round mould to cut out the biscuits (they should be 0.5 cm thick).
Bake at 180° for 16 minutes. Allow to cool after baking.
To form the ice cream biscuits:
Take the ice cream out of the freezer and put it in the Thermomix mixing bowl.
Mix by inserting the spatula in the measuring cup 10 sec. speed 4
Cut strips of baking paper 6 cm high and wrap one strip around a biscuit, secure with a piece of adhesive tape.
Fill the mould created with 2 tablespoons of ice cream, place it in the freezer for an hour.
Once compacted, place the other biscuit on top, remove the baking paper and pass the edge of ice cream in the chopped pistachios.
Serve immediately or put them back in the freezer on a sheet of baking paper.
Ingredients
For the ice cream
For the biscuits