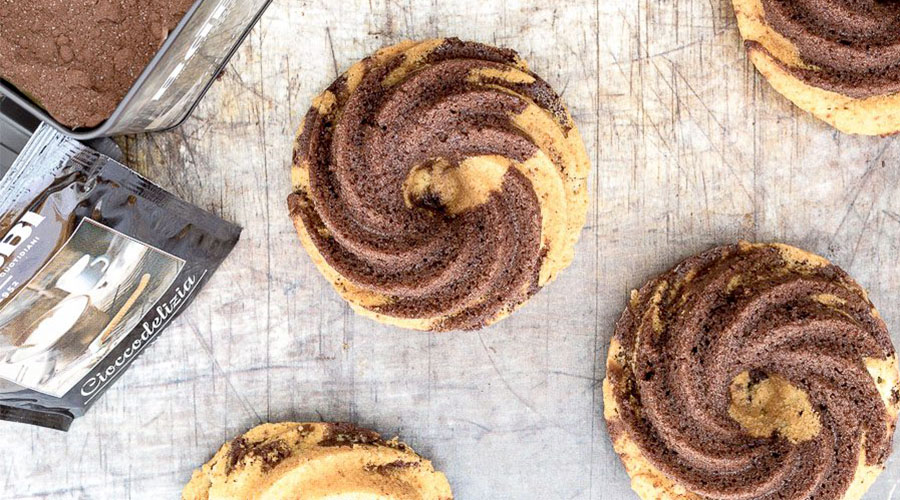 Marble cakes with Cioccodelizia Babbi

Preparation time:
15 minutes

Ingredients
120 g cake flour

130 g potato starch flour

30 g di 

Cioccodelizia Fondente Babbi

28 g di 

Cioccodelizia Bianca Babbi

3 eggs

200 brown sugar

150 ml seed oil

110 ml milk

1 sachet baking powder

1 pinch of salt
Preparation
Grease and flour a muffin pan.

Sift together the flour, potato starch flour and baking powder and set aside.

In a large bowl mix together for about 8 minutes, the eggs with the sugar and a pinch of salt, until the mixture is smooth and frothy.

Add the oil and then the milk, in a thin stream. Add the sifted ingredients a little at a time and mix well. As soon as the ingredients are all perfectly mixed, divide the mixture into two equal parts and add Cioccodelizia Fondente Babbi to one and 

Cioccodelizia Bianca Babbi

 to the other. Mix the two mixtures well so that they are smooth and uniform.

Pour the mixture into the muffin pan and bake for about 35 minutes or until cooked through.

Allow to cool and remove from pan.
Ingredients
120 g cake flour

130 g potato starch flour

30 g di 

Cioccodelizia Fondente Babbi

28 g di 

Cioccodelizia Bianca Babbi

3 eggs

200 brown sugar

150 ml seed oil

110 ml milk

1 sachet baking powder

1 pinch of salt