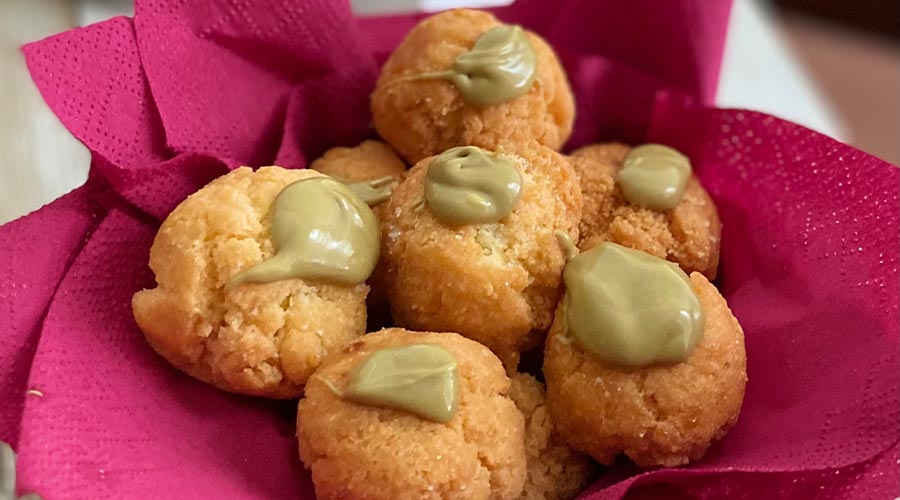 Pistachio Carnival Castagnole


Preparation time:
30 minutes
Cooking time:
30 castagnole

Portions:
for 30 castagnole - 4/5 People
Ingredients
200 gr flour
1 large egg
40 gr soft butter (or 30 gr of sunflower oil)
50 gr sugar
grated rind of 1 untreated lemon
seeds of 1 vanilla bean
1 large spoonful of Anise liqueur
1 pinch of salt
6 gr baking powder
Preparation
First of all, mix the flour with the yeast and put on a pastry board or a work surface. Add the sugar, the egg, the lemon peel, vanilla, soft butter cut into small pieces, salt and liqueur.
Knead the dough with your hands starting from the center, a thick cream will form. Knead a few seconds until you obtain a homogeneous and smooth dough. The castagnole mixture is soft, slightly greasy, but not too sticky. If you have respected the doses of the ingredients, the consistency will be perfect. If you used a small egg, add 1 tablespoon of egg to balance the consistency.
Wrap the dough in cling film and let it rest at room temperature for about half an hour.
Remove some pieces of dough that have a weight of 10 grams from the total dough, rub them between the palms of your hands until you get smooth balls.
Place them on a non-stick pan and bake in a preheated static oven at 190 degrees for about 12/15 minutes.
Fill with a generous spoonful of Cremadelizia Pistachio Babbi.
Ingredients
200 gr flour
1 large egg
40 gr soft butter (or 30 gr of sunflower oil)
50 gr sugar
grated rind of 1 untreated lemon
seeds of 1 vanilla bean
1 large spoonful of Anise liqueur
1 pinch of salt
6 gr baking powder