New Babbi Gourmet Specialities 2022-2023
VIENNESE PISTACCHIO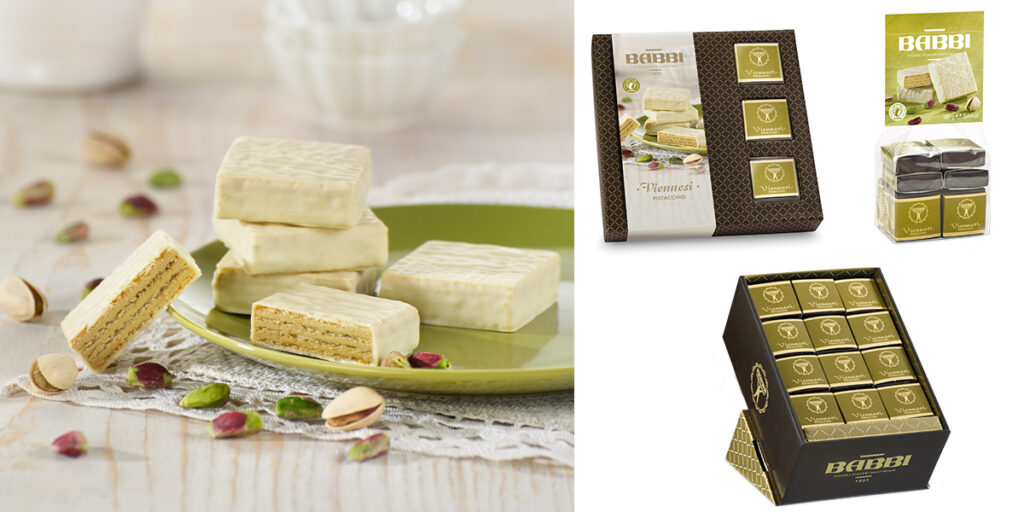 The historic Viennesi family widens: the new Viennese Pistacchio, filled with Pitsachio spread and covered with white chocolate, joins Viennese Classico and Viennese Fondente.
GEMME NOCCIOLA PIEMONTE IGP
The Gemme family's birth comes from Babbi experience and know-how in selecting and processing nuts. Gemme Pistacchio Verde di Bronte DOP – 2021 new products – have been deeply appreciated. We have thus created the hazelnut version, with a precious heart of Nocciola Piemonte IGP covered with milk chocolate and finely candied.
Gluten Free
CIALDELIZIA – CUORI CACAO
The Cuori Cacao are the new arrivals in the Cialdelizia family, Babbi line dedicated to those Wafer specialties that are available all year. They are crunchy wafers, ideal as a snack or to decorate desserts or simply to make every moment of the day special.
Gluten Free
BABBINI ARACHIDE – Peanut
New taste for the Babbini: crunchy wafer filled with Peanut cream and covered with white chocolate. Babbini are also available in Dark Chocolate, Coffee, Hazelnut, Coconut and Pistachio flavours.
CHRISTMAS EDITION – Bon Bon and the new Advent Calendar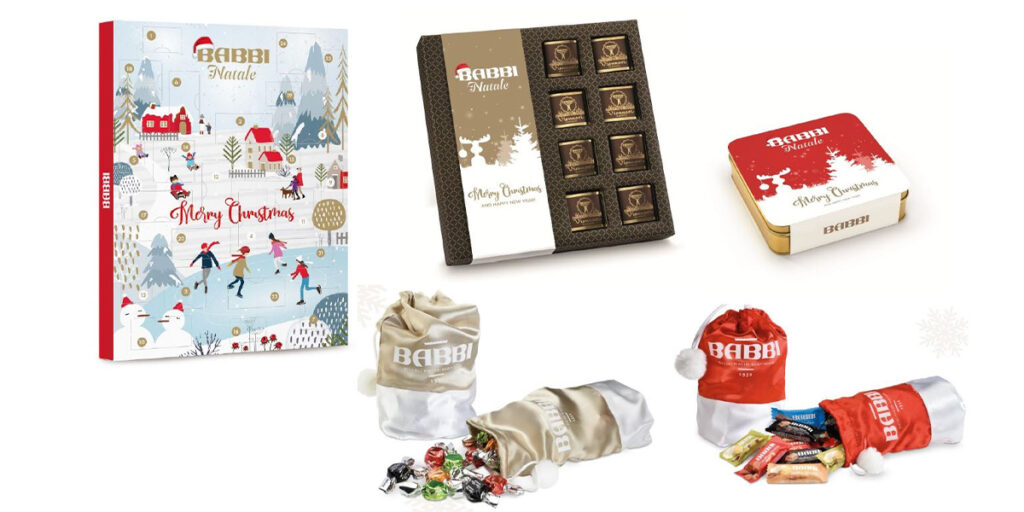 Babbi Christmas line widens with the new Bon Bon Christmas Edition in a cool and golden bag that joins the Babbini red-colored version.
The Advent Calendar comes in a new and original graphic. By purchasing this package, you will contribute to raising funds for the "Uno di Famiglia" (One
of the Family) project of Fondazione Mediolanum Onlus to bring doctors directly into the homes of 224 children with serious illnesses.
LOVE EDITION – mix Babbini
The sachet with mixed Babbini, Dolci Pensieri Love Edition, joins the Viennesi and the Waferini boxes: the Love Edition is a romantic and original family, perfect as gift idea.