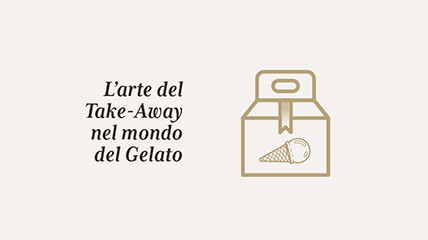 The art of Take Away in the world of Gelato
Basic steps for take away service:
Safety in the preparation phase


Do an extraordinary sanitization of the rooms and workstations at least twice a day
Always make masks, gloves, soaps and sanitizers available for your personal use
Respect good hygiene practices (GHP)
Remember to update the HACCP manual
Safety in the orders



Try to encourage online order and contactless payment
Safety in the sales area



Sales assigned places must always be clean and sanitized. Try to ventilate the rooms frequently
All staff must wear masks and gloves
The most touched surfaces, such as handles, refrigerated cabinets, keyboards / touchscreens, scales, POS terminals need to be sanitized
Safety during the pick up time



Organize and promote collection by the customer in an agreed time slot
Arrange adequate signs to help customers maintain safety rules (respect for interpersonal distances, designated routes, etc.)
Organize access to the sales area so that the correct individual distancing is respected and there is an orderly flow of customers. If necessary, make fix numbered and staggered entries to respect the minimum distances. You can help yourself with queue ticket dispensers, horizontal signs, etc. If the room allows it you can create mandatory entry and exit routes
At the entrance to the sales area, prepare clear instructions on the behavior the customer must keep inside and make hand spray or sanitizing gel available to your customers
Try to use disposable and sealed containers and materials wherever possible
Remind your customers that it is forbidden to consume inside or near your shop.
These are some suggestions elaborated by our team, always remember to consult and respect your country arrangements.