A sweet story dating back to 1958
In the early 1950's, in Cesena, Romagna, Attilio BABBI, together with his son Giulio, passionately started his own business making cones and wafers for local Gelato makers. The business proved an immediate success and, after producing the first ingredients for Gelato a few years later, Grandfather Attilio fulfilled his dream in 1958: the dream of creating the "perfect sweet", a sweet that offers an unforgettable taste experience.
This is how the Viennesi and Waferini were born, later followed by other delicacies, which were  immediately appreciated in Italy and around the world  for their unique wafer.
However, Attilio still had a dream to fulfill: that of creating not only a perfect sweet, but also a convenient, tasty and nutritious snack that could be eaten at any time of the day. In recent years, we have attempted to fulfill that dream several times in a constant effort to study this snack that Grandfather Attilio had already named Waferone!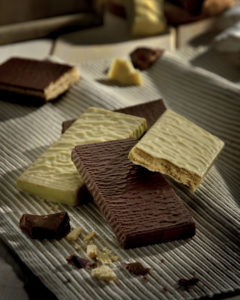 The WAFERONE – Attilio's Recipe, is no longer a dream or a fancy name: from this season, it has become a certainty, a new product to be included in the BABBI Confectionary Specialties, to provide whoever eats it with an exquisitely perfect experience, a "sweet soundtrack" that accompanies the good moments that life offers us.