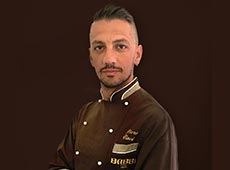 Piero Vinci
Since January 2018, he has been collaborating with Babbi where he has been given the opportunity to share his semifreddo and gelato making experience with others, as a demonstrator.
Pietro Vinci, known to all as Piero, was born in Martina Franca on 29 September 1981.
While attending school as a young boy, he discovered the world of pastry in a couple of pastry shops in my town. At 16, his passion led him to look for something more stable to acquire greater professional skills. This is when he started his work experience at Caffè Tripoli of Cavalier Vito Colucci, one of Martina Franca's oldest pastry shops, an adventure that lasted more than 11 years, where he had the opportunity to refine his skills and assimilate all the pastry making techniques.
Over the years, he has sought to combine tradition with modernity: he attended courses taught by great masters with great interest, deepening his knowledge of healthy pastry, semifreddi and modern small pastry, gelato and chocolate processing techniques.
In 2010, he decided to achieve his professional dream and opened a gelateria and pastry shop in Martina Franca, in collaboration with his wife, where he proposed daily croissants, pastries and gelato, using raw materials of the highest quality and continuously researching new taste combinations, trying to stay as faithful as possible to his traditional roots.