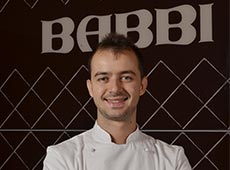 Marco Antinori
In 2013, he joined the Babbi company in the area, performing Quality Control and Assurance tasks.
Since 2018, he has been a Product Specialist assisting in customer support for both the Italian and foreign markets.
Marco graduated in 2013 from the Faculty of Food Science and Technology Cesena. During his studies, and after graduating, he undertook a research and development project in the bakery industry. In this period, in addition to formulating products as Food Technologist, he also dealt with all the aspects relating to consultancy: from process development to labelling finished products.