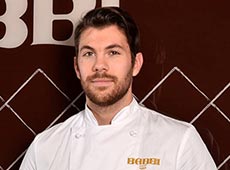 Luca Rasi
He has always had a great passion for chocolate, which he has cultivated through various vocational courses, including the "Basic Training in Chocolate" vocational course at Accademia dei Maestri Cioccolatieri Italiani (Academy of Italian Master Chocolatiers) and the "Chocolate Taster – 1st Level" course at the International Institute of Chocolate and Cacao Tasting.
Luca fell into the world of craft Italian gelato and pastry almost by accident, starting to work as a labourer in the former family business after having interrupted his university career in architecture.
His love for this world grew slowly, leading him little by little to want to know every little secret.
"The bond that ties me to this world is further strengthened by my family's long pastry tradition, since my great-great-grandparents opened their first pastry shop in town in 1868. My greatest desire is to continue this tradition.
Of my thirteen tattoos, one is dedicated to the passion for this job and one to my confectioner grandfather, who I never knew."