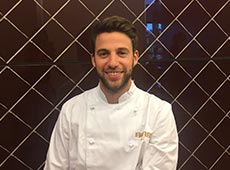 Filippo Babbi
Filippo Babbi, the fourth generation of the founding family of the homonymous Babbi Srl, became a permanent member of the company's technical staff immediately after obtaining his degree in Food Science and Technology, in March 2014.
It must be said that the great passion and curiosity that drove Filippo years before joining Babbi, led him to attend gelato, cold pastry and marketing training courses repeatedly, thus refining his product skills and knowledge gained in higher education. For over 4 years, he has participated in fairs and events in Italy and abroad.
Filippo holds Gelato and Confectionery courses both at the Babbi Gelato Academy and at Gelato shops (gelaterie) and laboratories across Italy and around the world. He has recently held Gelato courses in China and Australia.