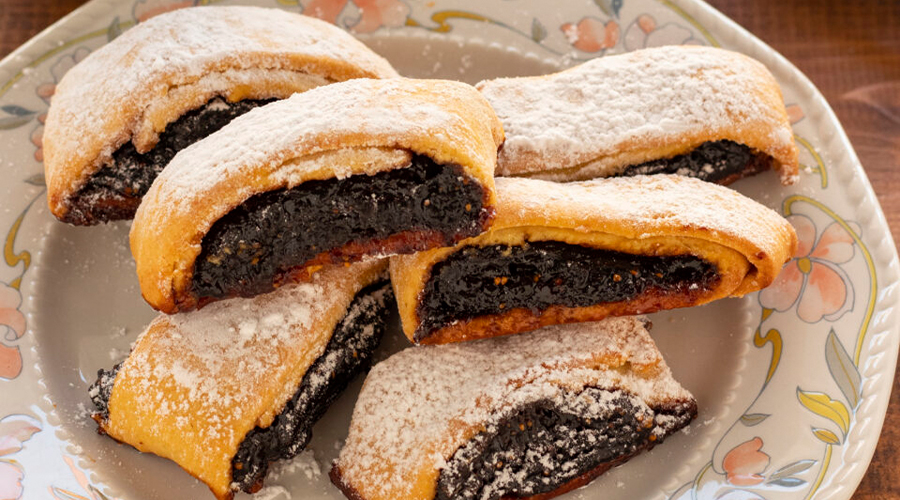 Cookies with Caramelized Figs


Preparation time:
20 Minuten
Cooking time:
20-25 minutes

Ingredients
For the biscuit pastry
2 eggs
75 g sunflower oil
350 g flour 00
100 g sugar
1 lemon (only the grated zest)
4 g baking powder for cakes
For the filling
For finishing
Preparation
For the shortcrust pastry: open the eggs and put them into a bowl, add the sugar and mix with a fork.
Add the oil, grated lemon zest, flour and yeast.
Mix well until the dough starts to become firm; lightly flour a pastry board, then roll out the shortcrust pastry in oil with a rolling pin until it is about half a centimeter thick and rectangular in shape.
Spread the Cremadelizia Fichi Caramellati Babbi in the center of the shortcrust pastry, leaving the edges clean.
Close the pastry by wrapping up the filling, then dropping a strip of dough taken from the long side on top of the Caramelized Figs, and then repeat the same procedure with the other edge of the pastry. You will obtain a loaf.
Cut the cookies to the desired width with a wet knife; then place them on a baking tray lined with baking paper.
Bake the biscuits for 20/25 minutes in a pre-heated oven at 180 ° C, static mode.
Once ready, take the cookies out of the oven, let them cool, then sprinkle them with icing sugar.
Ingredients
For the biscuit pastry
2 eggs
75 g sunflower oil
350 g flour 00
100 g sugar
1 lemon (only the grated zest)
4 g baking powder for cakes
For the filling
For finishing