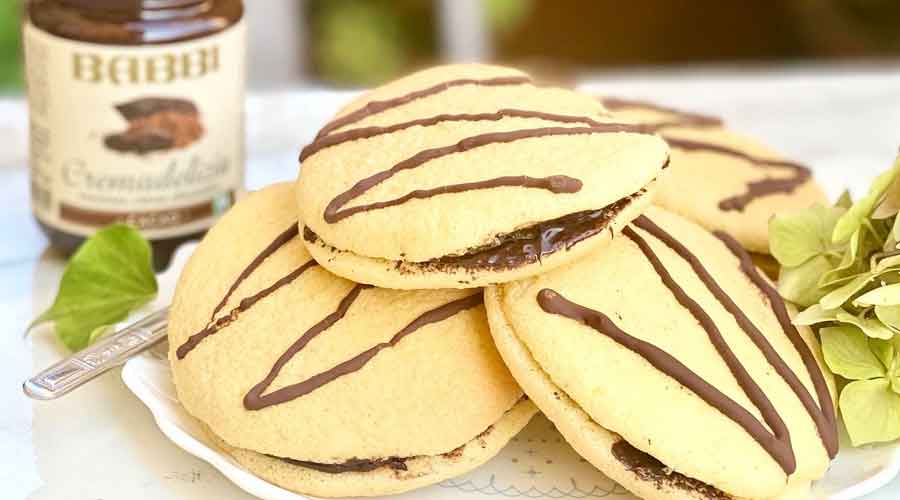 Chocolate snack


Preparation time:
10 minutes

Ingredients
3 medium eggs
100 g sugar
1/2 vanilla bean (seeds)
100 g flour
1/2 teaspoon of baking soda
 For the filling
50 g 70% dark chocolate
Preparation
Combine the eggs at room temperature together with the sugar and vanilla aroma in the bowl of the mixer. Whip the mixture for about 5/6 minutes, until it becomes puffy and fluffy.
Sift the flour with the baking soda separately, mix well and add it slowly to the egg mixture. Mix everything with a spatula, stirring with gentle movements from the bottom up to avoid disassembling the mixture.
Pour a heaping spoonful of the mixture onto baking paper, making well-spaced 8 cm circles of dough.
Bake in a preheated convection oven at 180 ° for about 8 minutes. Turn off and leave in for 2 min with the door half open. Attention, they must be clear!
Leave to cool on a wire rack then fill half of the discs with the Cremadelizia Cacao Babbi and close them with half of the remaining discs.
Melt the dark chocolate over a bain marie, transfer it to a pastry bag with a fine spout or otherwise you can create a small cone with parchment paper, decorate your Yo-Yo like snacks.
Wait for the chocolate to solidify, it will take a couple of hours.
You can keep them for a few days at room temperature in glass or tin boxes.
Ingredients
3 medium eggs
100 g sugar
1/2 vanilla bean (seeds)
100 g flour
1/2 teaspoon of baking soda
 For the filling
50 g 70% dark chocolate